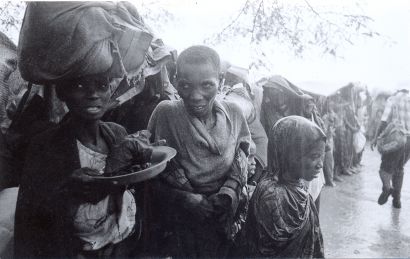 March-April 1997: some of them managed to return home alive. Very few, out of the two million who fled their country three years before. They are Hutu women arriving to Gisenyi, on the Rwandan border. They are coming from ex-Zaire (now the Congo Republic), having travelled hundreds of kilometres on foot. They have lost their children. Incredibly, they have managed to survive the attacks of Kabila's rebels – and other soldiers whose identity is unclear but all of Tutsi origin – in the refugee camps, the rivers and the equatorial forests. The attacks were programmed, intended to weaken a people vulnerable and defenceless.
In Kigali, on the other hand, live the other survivors, those who escaped from the massacre of 1994. They are the Tutsi women. They have tried to rebuilt their lives, their families, their houses. They have learnt the art of bricklayer, learnt to square corners and mix cement and now they are brickmakers.
Hutu and Tutsi women recount the experiences of the last three years, after the genocide of April to July 1994. They are tales of horror which should not be ignored even if the rainy season washes away the signs of repeated murder. Even then, in 1997, every month, more than five hundred people were killed feeding the uninterrupted river of death in the 'Land of a Thousand Hills' as Rwanda is called.