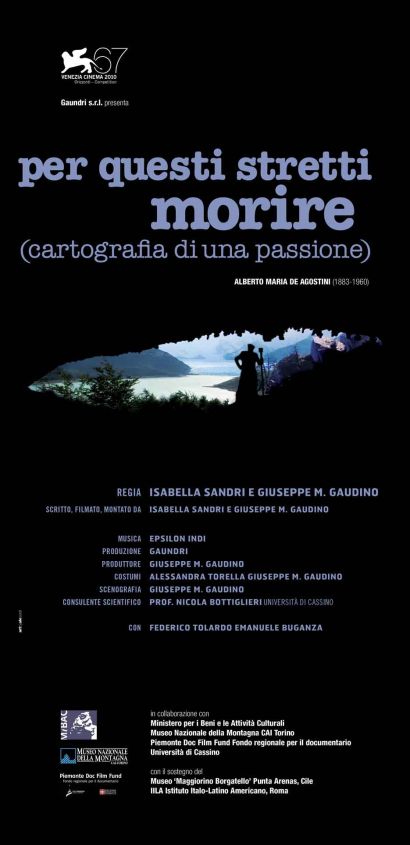 The perseverance, excess and suffering in the life and works of the explorer, filmmaker and photographer Alberto Maria De Agostini (1883-1960) are arbitrarily reinvented. Having left his village in Piemonte at the age of 26 to become a missionary, he reached Patagonia and the Tierra del Feugo in 1910. He scaled mountains, discovered fjords and explored glaciers naming them all. On encountering the anguish and pain of the destruction of the last Indio natives, he expressed these feelings eloquently through the photo plates and frames of his beautiful film Terre Magellaniche. All of this ends up as an imaginary and chaotic repository of memories, amongst the sad, hoarded remains of "white civilisation", in which two kids (assistants to the past, indefatigable workers, fanatical innocents) rummage around in search of traces of the artist, whose name is virtually unknown in Italy. The Indio people, ever-present ghosts, accompany them in remembering their elimination and that of a nature and a land stolen from them by colonisers.
"Whilst my physicians by their love are grown / Cosmographers, and I their map, who lie / Flat on this bed, that by them may be shown / That this be my south-west discovery, / Per fretum febris, by these straits to die, / I joy, that in these straits I see my west; / For, though their currents yield return to none, / What shall my west hurt me? As west and east / In all flat maps (and I am one) are one, / So death doth touch the resurrection."(John Donne, 1623).
Nothing remains of De Agostini. Nothing personal. There are no diaries, notebooks, notes or confessions. Over the last three years of our work and investigation we have often asked ourselves what kind of man he was. The only answer we could come up with was an image, that of a Man-Map. He is his place, the place that he loved, which is more than an emblematic metaphorical symbol – it is the body. We think that he scrunched himself up, reuniting the two edges of the map and finding his paradise simply through the meaning of his work.
PressBook