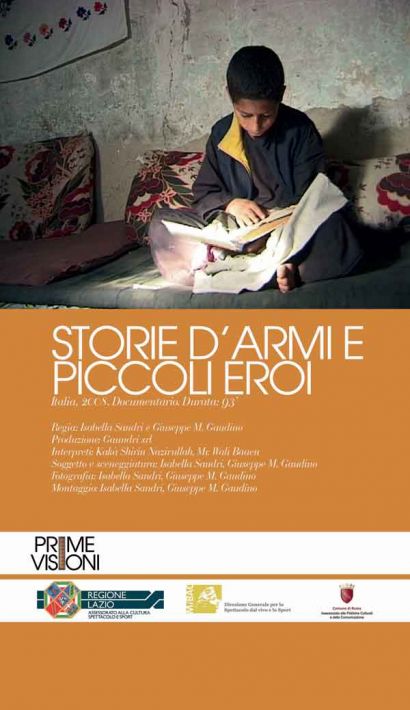 KABUL 2003.
It's the story of an afghan boy, Kakà Shirin, and of his misadventures, but also the story of encounters that changed his life. One day, in december 2001, his mother was pounding wheat in the kitchen. She heard some explosions and went outside, in the yard to check what was happenning, immediately followed by her husband. In the meantime they continued to bomb. They both died, killed by one of those 'intelligent bombs' that instead of hitting Taleban bases, hit civilian houses.
Kakà's life in that moment definitively changed. His aunt, Bibi Shirin, alone, old and almost blind, went to the Shomali Plains, more or less 80 km away, to fetch Kakà and his little sister Sheila, to bring them to Kabul.
Kakà arrives in Kabul and is obliged to work on the streets to avoid starving. In the beginning, in the first days, he is really afraid: the city frightens him. But after a while he begins to improve in washing cars, near the Shar-i-Naw Park. Kakà turns out to be the breadwinner for his aunt and his little sister. But his life is very hard.
One day a very well-dressed man who had been watching him for a long time, approaches Kakà. He asks him some information about his life, his parents, if he goes to school as well washing cars.
This well-mannered man will have a very important role in Kakà's life. Since that day nothing will be the same. That man is Mr.Walì, a social worker who is in charge of choosing children with no education, orphans without a mother or father. He works for the Aschiana Centre, an organization which helps little girls and boys who are working on the streets to teach them literacy, drawning, tayloring, carpentry, miniating, computer, english, music, painting.
Kakà agrees to attend the Aschiana centre, but he must continue to work. He has to study and to wash cars in the park. Every day Kakà goes a long way on foot, almost 40 km, from his home to the park, from the park back home, from home to school and so on.
KABUL 2006.
Three years pass. Kabul has changed. There are still poor people but now there are also rich people. The street children have increased, as well as the population and the traffic.
Kakà receives his Aschiana diploma, he came first in his class. Now he is attending State school.
He manages to buy a bicycle, with many difficulties. He continues to work but he doesn't wash cars anymore. He finds a job in a signboard shop. He goes there every afternoon, after school, to write and paint the signs for various assets.
When he has some problems and doesn't know how to draw or paint a letter, he goes to his old teacher of calligraphy in Aschiana.
Aunt Bibi is sick, she got into debts for an eyes operation. Kakà's sister, Sheila, remains always with her aunt because they expelled her from school. She was a nuisance.
The old Aschiana seat, large with a wide yard where children were used to play, now doesn't exist anymore. The owner didn't want to renew the rent agreement and he sent away teachers and children. He demolished all because in that same place, in downtown, he wants to build a big building. The new seat of Aschiana is more modest and the space where to play is reduced. Besides some teachers went abroad: now they live in Norway and in Iran, but the work of Mr. Walì goes on. It's always the same: to pick up children from the street, and bring them to Aschiana, asking – if their families accept - which kind of courses they want to choose. If they miss the call-roll for more than three or four days, Mr. Walì – worried- goes to look for them in their working areas and if he doesn't find them, he goes to visit their families, asking informations.
When Mr. Walì sees again the shottings of three years before, when Aschiana was in the old beautiful seat with all his friends, the teachers now far away, when still Kakà was attending his first lessons in calligraphy, his eyes become moist.